The Edge of Darkness
Welcome to our LlamaDrama website!
Following the success of our 'Five-play' evening in February, we are pleased to announce details of our next production, 'The Edge of Darkness', which will be presented at The Arkenstall Centre, Haddenham, nr Ely on Friday and Saturday 28th & 29th February 2020 at 7:30pm.
This time, we have something completely different – a thrilling mystery, which will keep you on the edge of your seat. 'The Edge of Darkness' is a full-length play written by the master of TV and stage, the late Brian Clemens, who created and wrote The Professionals and wrote and produced The Avengers, The New Avengers and other very popular TV series, as well as a number of thriller plays for the stage.
---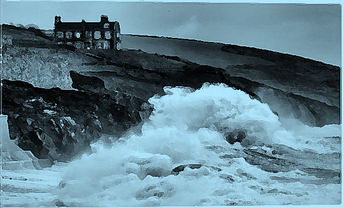 When Max and Laura Cranwell find Emma, their daughter, in hospital, after she has been missing for three years, her homecoming should be a joyful event. Soon, however, it becomes apparent that something is not quite right. Emma has lost all memory of her earlier life but she reacts with horror to various incidents and seems to recognise various Russian phrases. At the same time, the mysterious new manservant behaves oddly and the Cranwells themselves show an ambivalent attitude towards their daughter. Penny, the new maid, in the spirit of welcoming and helping the long-lost daughter, becomes the unwitting bystander to a menacing mystery, which eventually culminates in horror and violence.
Tickets are on sale now Sorry, this show now finished.

Actors appearing are Manu Abrams, Harvey Clark, John Koch, Dana McConkey, Colin Ransom. Lizzy Sheerin and Graham Stark. The play is directed by Andrew Clark.
Tickets are available online now, priced at £8 and £7 (concessions: 60 and over & 16 and under), with NO administration fee.
Tickets are also available in person from Haddenham Arts Centre,
20 High Street, Haddenham, nr. Ely CB6 3XA.
You can also email the Box Office at This email address is being protected from spambots. You need JavaScript enabled to view it. to
reserve tickets, and they will also be available on the door on the 28th and 29th February 2020 from 7pm.
This production is suitable for children aged 12 and over. There is no bad language and minimal violence.

Refreshments are available before the play and during the interval. There will also be a raffle. We look forward to seeing you there in February 2020!